Rail-to-truck transloading is the service you need when you're transporting goods over extremely far distances. There are all kinds of challenges that you have to deal with when you ship freight, from weather to traffic. This form of transloading service will bypass these challenges and make shipping more efficient.
The Department of Transportation (DOT) has regulations specific to rail-to-truck transloading you will need to follow. Rail-to-truck transloading allows you to combine the reliability and large load capacity of rail shipping with the fast service and various delivery options of truck shipping.
We'll give you the details on rail-to-truck transloading and why you should take advantage of it.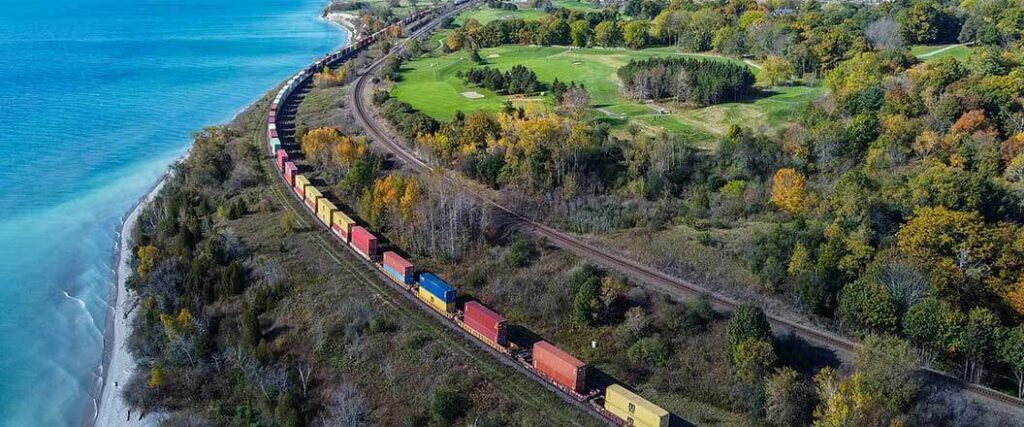 How Does Rail to Truck Transloading Work?
The way to incorporate transloading to ship freight by trucks and trains is fairly simple. To break it down, we've listed the process in a simple set of steps.
These five steps are:
Freight is loaded on rail
Rail transports freight most of the journey
Freight arrives by rail at a transload facility in close vicinity of the final destination
Freight is transloaded from rail to truck
Truck transports freight to the final destination
Depending on the size and characteristics of your freight, a variety of different methods can be used to unload your freight from rail to truck.
Some of these methods include:
Forklift
Crane
Conveyor
pump/pneumatic
Forklifts are typically used for palletized shipments of freight, but in some cases, are utilized to move oversized freight. Cranes are used to move oversized freight that's too heavy for a forklift.
If it's dry bulk products like soda ash that you're shipping, then a conveyor or pneumatic pump will transfer your goods from rail to truck. Transloading freight can take some time, but your freight will typically be transferred in a reasonable time frame.
What Are the Benefits of Rail Shipping?
Rail transportation is a form of freight shipping that has a long history in North America. On its own, shipping by rail has many unique features that shippers and receivers of freight have come to appreciate. We'll discuss some of the most unique and beneficial advantages of this transportation service.
Reliable Service
Rail shipments don't face the challenges of bad weather or traffic to the same degree. While there is the likelihood that extremely cold weather conditions could cause trains to halt, it usually doesn't happen. Rail companies also run their trains on schedules which ensures there's a constant flow of freight being transported.
Large Load Capacity
The amount of freight that rail cars can hold is quite impressive. A railcar can carry a weight of around 220,000 pounds worth of freight.
This is about the same amount of freight that three to four truckloads can transport. All of this capacity allows you to transport large quantities of freight that would normally need to be transported by using multiple truckloads.
What Are the Benefits Of Truckload Shipping?
Rail shipping has its benefits, but truck shipping on its own has many benefits as well. This form of transportation is very convenient and is probably one of the most popular ways of moving freight shipments.
Fast Delivery
Truck shipping is very fast, at least when you're transporting freight within short distances. Whether it's palletized or non-palletized freight, you can expect your shipment to arrive by truck in a short period. This is very convenient if the freight you're shipping needs to arrive at a destination quickly.
Various Services
Another advantage of truckload shipping is the various services that you'll have access to, specifically, the shipping and delivery options. Some of these services include the following:
Same day shipping
Express shipping
Delivery at business
Delivery at home
Pickup at Warehouse
Pickup during a shipments route
All of these options allow you to receive your freight in a manner that's convenient for you.
How Does Transloading Compliment Rail and Truck Shipping?
As we've already mentioned, rail-to-truck transloading is beneficial because it incorporates the best elements of each shipping method into one. Using both rail and truck to ship your goods is also beneficial because each shipping service compensates for the weaknesses of the other.
Cost Savings
Shipping freight by truck over long distances is much more expensive when compared to rail shipments. With diesel prices still at record highs, its better to have the longest leg of a delivery route by rail and then transload to a truck for local delivery. Just see how different the average cost per mile is between truck and rail.
Gas and Diesel Prices In the U.S. (August 2022)
Rail shipping offers a much more cost-effective alternative since trains use three times less fuel than trucks. That means if you're going to send freight over a long distance, it's best to use rail shipping to cover most of the journey. Transloading rail shipments to truck help counteract the expensive costs of truck shipping.
Direct Delivery Options
Rail shipments travel great distances spanning the entirety of this country. That said, a train will never be able to deliver your shipment of freight to your place of business or your front doorstep. Transloading your shipment to a truck supplements this problem. Unlike trains, trucks can transport your goods from the rail yard and directly to the final destination.
Reach More Destinations
Utilizing both rail and truck shipping will allow you to transport your goods further out and to destinations that you wouldn't normally be able to reach with one or the other. Using truck shipping for long distances will hurt your wallet, and rail shipments won't be able to reach the final destination, especially in hard-to-reach areas.
Combining both shipping methods and using each as needed will not only give you full coverage, but will allow you to transport freight to destinations that are far away. When using only truck or rail shipping, your ability to transport freight to certain destinations will be hindered.
What Type Of Products Can Be Transloaded?
Rail-to-truck transloading can be utilized for a variety of different freight shipments. Semi-trailers and rail cars come in different varieties to safely and efficiently transport specific forms of freight. This includes anything from food grade shipments, to dry and liquid bulk goods.
Some of the following varieties of semi-trailers include:
Some varieties of rail cars include:
Covered hoppers
Tank cars
Auto racks
Having the right trailer and rail car for your shipment is important, but so are the procedures that need to be followed when transferring the goods from one mode of transport to another. Therefore, you'll need to make sure that the transload facility you choose has the right equipment and trained personnel.
For more information on liquid bulk shipping, look into our bulk liquid transloading article.
Utilize Rail To Truck Transloading With Transload Services USA Today
At Transload Services USA, we can do more than just transload goods from rail to truck. We can transload freight from any mode of transportation to another. We also offer additional services besides transloading. These services include:
You are likely held to strict time constraints when it comes to shipping your goods. That's why at Transload Services USA, we make sure to perform our services quickly so your receiver isn't kept waiting.
Transload Services USA will provide you with the services your shipment needs. Fill out your quote today or reach out to our team at (866) 757-1109 for more help.
When you have questions,
we'll have the answers.
Let Transload Services USA be your partner. Scale your business by focusing on what matters and leaving the logistics to us.
Talk to us
Share
Copy URL to Clipboard