Ports around the United States are currently battling some of the worst port congestion that the country has ever seen. Worker shortages, lack of space, container scarcity and increased consumer demand have all caused the U.S. supply chain to grind to a halt, and nowhere is that more evident than on the West Coast.
Potential transload solutions for West Coast port congestion include reduced lead times, access to alternate ports, access to storage, and the ability to combat the global container shortage. Working with an experienced 3PL with access to ocean, air, truck and rail gives you options when battling port congestion.
Read on to learn more about what ports are being affected, the factors causing the congestion, and how transloading can help provide solutions.
Which West Coast Ports are Congested?
Essentially every major port in North America is experiencing some level of congestion. The two ports at the heart of the issue, however, are the Port of Los Angeles and the Port of Long Beach, both located in the San Pedro Bay on the coast of Southern California.
Together, these two ports account for around 40 percent of all containerized cargo imported into the U.S. each year. That level of volume combined with the bottlenecks occurring at these ports has created a recipe for a supply chain disaster.
Dozens of container ships remain anchored outside of these ports, peaking at as many as 79 in late October. Combined, these ships account for tens of thousands of shipping containers filled with cargo waiting to be unloaded.
It hasn't been just the West Coast ports either. While the major West Coast ports like LA and Long Beach have experienced the brunt of the issues, East Coast ports have experienced their own problems.
The Port of Savannah is more congested than it's ever been and ports like those in New York and New Jersey are experiencing similar issues. This is partly due to the fact that port congestion, in general, is an issue nationwide. However, these issues are exacerbated by the fact that some shippers have started rerouting their cargo to other ports. While this helps to alleviate congestion at one port, it worsens the issue at another.
Why Are Ports Congested?
Nearly every issue impacting the global supply chain right now can be traced back to the COVID-19 pandemic. That's not to say that there wasn't a container shortage or congestion issues before the pandemic, but the coronavirus didn't just create new issues - it magnified existing ones.
COVID restrictions and shutdowns closed many factories and warehouses worldwide, creating backlogs in production, distribution and international trade. At the same time, consumer demand for online goods reached unprecedented levels as spending shifted from service-oriented expenditures, like restaurants, movies and travel, to personal goods.
The increased trade volume created backlogs that have trickled down from production lines to distribution as each link in the supply chain attempts to catch up. Compounding that, many companies have had a difficult time convincing people to return to work. That includes factory workers, warehouse staff, dockworkers and even truck drivers.
"They've lost a lot of players. There's a lot of people that are very afraid, there's a lot of people who have moved to different industries. So you've got that lack of manpower," said John Kilbride, Director of Fulfillment and Distribution for R+L Global Logistics. "That caused the backup. And the flow is pretty dramatic, it's not something you just pick back up. It's very hard to get caught up."
As companies attempt to battle the stop-start effect caused by the pandemic, businesses are now trying to produce and distribute more cargo using fewer people. This has led to the bottlenecks and congestion that we're seeing today, not just at the ports of entry, but inland as well.
What's Causing Congestion Inland?
If you want to understand the root of the port congestion issue, you actually have to look further inland. Some of the biggest factors impacting congestion away from the port include:
Shortage of truck drivers

Lack of warehouse space

Hours of operation
According to the American Trucking Association, there was already a shortage of more than 60 thousand drivers before the pandemic. Now, that number has shot up to more than 80 thousand. There's also a shortage of warehouse workers, and without the manpower or the space to handle all of the inbound cargo and move the goods through these facilities, the entire process is delayed.
The hours that these facilities operate is a concern as well. In an effort to alleviate port congestion, both Southern California ports have gone to a 24-hour workday. While that sounds like a great idea, it's actually done very little to solve the problem due to the fact that the containers that are unloaded from the ships have nowhere to go.
While the ports have expanded their hours, many of the nearby warehouses and distribution centers have not. Truck drivers aren't even coming to pick up containers from the port during the new early morning hours because there are no facilities to take them to once they do. As a result, the new hours have done very little to fix the issue.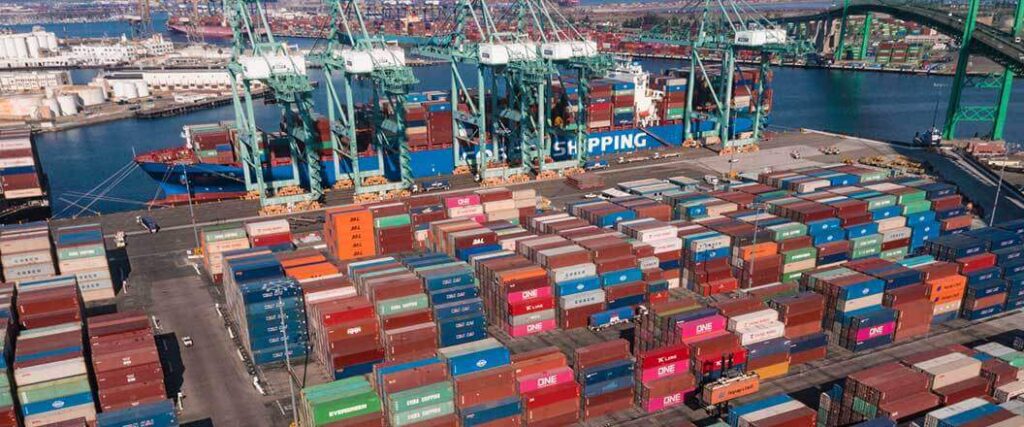 What's Causing Congestion at the Ports?
Congestion at ports is nothing new. Ports operate on tight deadlines and require the cooperation of thousands of dockworkers, truck drivers, and crew members, among other staff. Even on the best days, it's hard to keep a port of entry working like a well-oiled machine. Once you add the current situation into the mix, ports grind to a halt. Some of the key factors affecting ports include:
Shortage of dockworkers

Lack of container yard space

Scarcity of drayage drivers
Over the past month, ships anchored in San Pedro Bay have waited an average of 10 days before getting the opportunity to dock and unload their cargo at the Ports of Los Angeles and Long Beach. Once unloaded, that cargo remains untouched for up to a week before it has the chance to be picked up for distribution.
Typically in container transloading, containers are unloaded, hauled to a nearby warehouse or distribution facility, and either unloaded or transported to their destination. Once finished, the empty containers are returned to the port where they're loaded back onto the ship and put back into the rotation for international trade.
The issue now is that because things are so backed up and there are shortages of drivers, space and equipment, containers that are offloaded from the ship are now stuck at the port. Many off-site facilities don't have the manpower to handle the incoming cargo, the truck drivers or chassis capable of transporting the cargo to facilities, nor do the ports have enough yard space to store all of the leftover containers.
Because so many containers are unable to leave the port, new containers are unable to be offloaded from ships, and this causes a chain reaction forcing ships to anchor outside of the port for days at a time before enough space is made available.
This has also been exacerbated by the ongoing shipping container shortage. Not only has the increased demand for goods put a strain on the existing container supply, but because of this gridlock, many empty containers are unable to be loaded back onto ships. This past September, in fact, the Port of Los Angeles saw more than 360 thousand empty containers, a 28-percent increase over last year.
How Has Port Congestion Affected Costs?
The 'Great Supply Chain Disruption', as this crisis has been not so affectionately nicknamed, has had a huge impact on costs that have rippled down through each link in the supply chain.
According to Freightos, the average cost of shipping a container has skyrocketed from around $1,300 in March of 2020, prior to the pandemic, to more than $10,000 now. Additionally, a report from Container xChange indicated that demurrage charges more than doubled in 2021, increasing by an average of 104 percent worldwide.
Essentially every facet of the supply chain has been affected somehow with increased costs for warehousing, distribution, drayage, detention, you name it.
Despite the congestion and increased prices, business hasn't slowed at any of the major ports. In fact, The port of Los Angeles actually recorded its busiest September on record. The port processed more than 900 thousand TEU (twenty-foot equivalent units) in September, bringing its year-to-date volume up to 8.2 million TEU, a 26-percent increase over 2020.
Transload Solutions for West Coast Port Congestion
For months now, industry experts have attempted to find solutions to port congestion. Truthfully, there's no "magic bullet" that is going to instantly relieve the gridlock, but there are actions that can be taken to reduce lead times, increase flexibility, and, in some cases, even help keep the supply chain moving for everyone. Transloading is one of those solutions.
So, how does transloading help our current situation? The short answer is that transloading alone can't solve the current congestion issues in their entirety. However, it can help alleviate some of the problems many importers are currently experiencing.
Transloading, by its definition, is the process of moving cargo from one mode of transportation to another, often with some level of handling and/or storage in between. This helps keep the supply chain moving and ensures goods arrive at their final destination in a timely manner.
When shipping commodities, there are four different methods you can use: air, ocean, truck and rail. Individually, these modes have their own sets of strengths and weaknesses when it comes to logistics and transport.
During normal times, in fact, two or more of those methods would be used to complete a single freight shipment. That's called intermodal shipping. Another defining characteristic of intermodal shipping is that the shipping containers themselves get moved between modes of transport, not the individual goods.
Transloading is considered a "cousin" of intermodal. The key difference is that during transloading, the goods inside the shipping containers are unloaded and then loaded onto a different vehicle. This can be truck to rail, ship to truck, or any other combination of transport, as long as the freight — and not the shipping containers containing the freight — is offloaded and reloaded.
It's important to make the distinction because both of these shipping methods can be used to help with port congestion issues and keep global trade moving. Many freight loads benefit from intermodal shipment already, but transloading is becoming more and more of an option in the face of port delays. Some of the benefits that transload services can provide in combating port congestion are listed below.
1. Reduced Lead Times
One of the defining characteristics of transloading is that it involves multiple modes of transportation, meaning it doesn't pigeonhole shippers into using just one method. This helps to reduce lead times.
Transloading gives shippers the ability to transport cargo using whatever means necessary. That means that if there aren't enough drivers to efficiently ship your good over the road, you have the option to haul them to a rail transload facility and get them on a train car for a cross-country trip instead. The same goes for air or even another ship using a small inland port.
The point is, transloading gives shippers options. It helps increase the likelihood of moving freight and opens up the supply chain by allowing you to ship by more than one method. Finding a 3PL (third-party logistics) with contacts for air, sea and land is crucial to securing a haul and getting your cargo transloaded and on the move.
2. Alternative Ports of Entry
As mentioned before, transloading expands your options, including access to alternate ports of entry.
If the Ports of Los Angeles and Long Beach are too congested, it's possible to alter the shipping route to enter through another port. From there, the cargo can be transloaded onto a train, truck, or any other form of transportation, and travel the rest of the way to its destination.
Obviously, changing ports comes with its own complications, such as higher transport costs, increased transit times, etc. But depending on the situation at the original port, like long wait times and expensive demurrage fees, the costs may be reduced or offset.
As for the two Los Angeles-based ports, alternatives include smaller ports like:
Port of Hueneme

Port of Redwood City

Port of Richmond

Port of Stockton

Port of West Sacramento
As well as larger ports like:
Port of San Diego

Port of San Francisco

Port of Oakland

Port of Seattle

Port of Tacoma

Port of Portland
3. Access to Storage
The truth is, this nationwide port congestion issue isn't going away any time soon. However, one way that importers have found to combat the situation is by seeking out storage options ahead of time.
When goods arrive at a transload facility, one of two things happen. They're emptied out of their shipping container, sorted, palletized, and either loaded onto an outbound vehicle for the next leg of their journey, or put into storage until their needed.
By transloading, as opposed to cross docking, you have the option to order your goods ahead of time and place them into short-term or long-term storage so that by the time you need them, you don't have to go through the entire shipping process again. It's worth noting that this option does require you to estimate your volume ahead of time and find a facility with adequate space available.
4. Container Availablity
Another benefit of transloading is that as opposed to intermodal shipping, transloading helps get shipping containers back into the supply chain rotation.
When overseas transloading occurs, goods are removed from the international, or maritime, container that they traveled across the ocean in, and transferred into a domestic container. This is an advantage for two reasons.
Most importantly, this helps to combat the current container shortage by freeing up international containers and putting them back into the rotation. There are countless goods around the world just waiting for distribution, but there aren't currently enough containers to move them all. By transferring the goods into domestic containers, rather than transporting the entire international container inland, those initial containers are freed up and are able to be loaded with new goods.
Secondly, by transloading cargo into domestic containers, you're able to move goods more efficiently. International containers typically come in either 20- or 40-foot lengths as opposed to domestic containers which can come in up to 53 feet in length and store 60 percent more cargo than a standard 40-foot container.
That means that goods from three 40-foot containers are able to be consolidated into two 53-foot containers. Far more cargo is able to be moved in just a single container this way as opposed to moving more of the 20- or 40-foot containers.
Find Your Transloading Solution with Transload Services USA
According to many industry experts, major port congestion is expected to remain an issue for at least the next year, and likely longer. With Transload Services USA, powered by R+L Global Logistics, you can work with and get full access to facilities that are properly equipped to combat these issues for years to come.
Our team is equipped to handle any and all supply chain challenges that may come your way, including port congestion. Some of our other services include:
Thanks to our strategically located resources and vast knowledge and experience, we can handle all of your logistics needs. Fill out a hassle-free quote or give us a call at (866) 757-1109 and our team will get to work on creating a strategy-driven and efficient approach for your supply chain needs.
Share
Copy URL to Clipboard